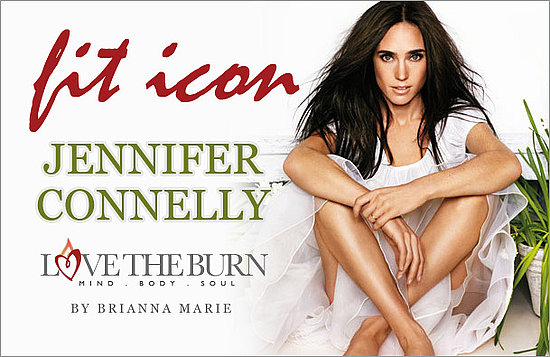 With a movie releasing in theaters nationwide this Friday, January 14, 2011, it was only befitting to have Jennifer Connelly as this week's Fit Icon. Connelly plays a part alongside Vince Vaughn and Kevin James in the upcoming movie The Dilemma. You may know Jennifer from such movies as, A Beautiful Mind & He's Just Not That Into You.
With a curvy, lean yet, muscular body, what's not to love (Measurements: 34B-22-34; Source: Celebrity Sleuth magazine). Jennifer's sculpted arms look simply amazing in every picture and film, along with her flat tummy (not everyone aspires to have a hard 6-pack. Love the body you have!), and defined back, we were sure to notice her. Planks are a great way to achieve her body because they work the abdominals, arms, shoulders, and back muscles.  

STEP 1: Lay face down on the floor resting on your toes, with arms bent. With hands making a fist, place them just outside shoulders with your elbows tucked in at your sides, resting on your forearms. This is your starting position.
STEP 2: Contracting your abdominal muscles, slowly raise your body up off the ground and hold it in a nice straight line. Make sure you are not swooping your back or arching it. The trick is to keep abs tight and back/body straight. Hold as long as you can. Try to complete 3 holds and increase time each set by 10 seconds. Maximum hold time is 1 minute.
DIET: As a vegan, Jennifer eats a lot of whole foods and lots of leafy green vegetables, giving her body all the nutrients it requires to be healthy and have a healthy, glowing physique. I'm not going to suggest everyone try a vegan diet (I know I couldn't) but I will suggest eating tons of green leafy vegetables such as kale.   
Check out these articles:
Protein Choices For Vegan Diet
Obliques 101: Side Plank Hold & Oblique Twists
Like Jennifer Connelly?
Click On These Other Celebrity Fit Icons:
Kate Beckinsale
Jennifer Aniston
Demi Moore
Sandra Bullock
Megan Fox

And Check Out These Love The Burn Links:
Brianna Marie Online
Love The Burn of FitSugar